As a true Queen of the Hills, Mussorie is an enchantingly beautiful hill station that stands out from all the others in the world.
It is a charming town surrounded by magnificent natural beauty, dripping with old-world charm. A glimpse of the hills rising higher and higher to join the eternally snow-clad Himalayas can jolt even the most experienced traveller to attention!
Some of the most majestic peaks in the Indian Himalayas can be observed from this very quaint town – Chaukhamba, Bandarpunch, the Gangotri group, and Srikantha are commanding presence in the distance.
There is nothing to compare with the spectacular views of steep hills surrounded by dense forests of Oak, Cedar, Pine, Deodar and more.
Why Visit Mussorie?
No matter what kind of traveller you are, from a casual backpacker to a discerning nature enthusiast, Mussoorie has something for everyone. For a weekend getaway, Uttarakhand's hill station is perfectly located near Delhi, the national capital.
This is one of the few hill stations in the Himalayas which have not been commercialized to a great extent.
It offers peace and tranquillity, so it's a good vacation spot for people looking for a peaceful retreat.
You can always head up the main town to witness the great Himalayan ranges in all their majestic glory or idly sit around in the verdant environs surrounding the time, enjoying the closeness to nature.
The city of Mussoorie also offers bespoke hospitality to discerning tourists.
Located near the main town of Mussorie, Karma Vilas by Howard Hotels offers a peaceful setting, far from the bustle of the city. Howard Hotels are synonymous with offbeat locations & exquisite properties that give you the best comfort and stay experience.
How to reach Mussorie?
Although Mussoorie is high, it is easily accessible by train, bus or aeroplane. When it comes to the road, your car or bus is the best option. The best way to get to Mussorie is to get to Dehradun by train or plane then take a taxi or bus. Dehradun is only 38 km away.
Located 300 kilometres north of New Delhi, it is accessible by road, rail, and air. It is located at a height of more than 6500 feet with its highest point at "Lal Tibba" at 7500 feet. It is flanked by the Himalayas towards the north and northeast, and Shiwalik ranges to the south.
Where to stay in Mussorie?
There are loads of stay options for everyone.
If you are looking for a property with a pristine, serene view of the mountains from every window, a safe haven to unwind & recharge. Conveniently situated at the top of the hill, it offers the best of comfort the Karma Vilas Resort in Mussorie is the place for you.
When travelling in the peak season, consider booking in advance as hotels fill up quickly.
What to do?
Mussorie offers many attractions. Whatever your mood is, whether relaxation or some fun, action-packed adventure, Mussorie has something for everyone.
With a complete guide to Mussoorie, we have included four of the must do's for a perfect itinerary.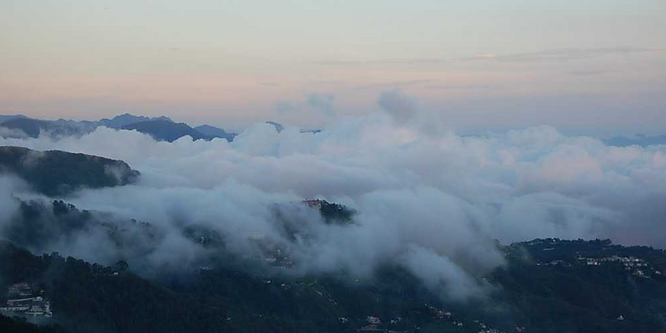 1. Clouds End
Quite literally, Clouds End is Mussoorie's western end and is surrounded by thick deodar and oak forests.
Most visitors enjoy taking a walk through the forest. It's a favourite activity among nature lovers and wildlife enthusiasts.
2. Kempty Falls
Located 15Kms away, this beautiful picnic spot is ideal to relax with your loved ones. the falls are a popular attraction and can be reached either by walking or taking a cable car.
This spot is popular for its food stalls nearby & arrangements made for changing rooms etc so that visitors can enjoy that waterfall to its full extent.'
3. Gun Hill Point
The stunning spot, from which the snow-capped Himalayas can be seen, is a favourite spot for photographers.
You can either walk or cable cart to reach Gun Hill from Mall road.