Traveling is something which has different meanings for every single person in the world. There could be millions of reasons to travel. Some might travel to soothe their mind and souls, some might travel for work or some might do it to chill.
But what adds up the icing over the cake? The destination for sure! Choosing the right destination as per your mood is something that can add vibrations of liveliness to your vacation.
Well, if you're looking for a peace-loaded destination then you can relish the scenic views of nature in between the laps of the mountains in Nainital.
Imagine – the scintillating beauty of nature, the scenic mountain views, the soothing chirping of birds, the still yet calm lakes, are a force to reckon with re-energizing your inner-self.
Who wouldn't like to unplug from the hassle of mundane life in the laps of nature? Packed with activities like rock climbing, sightseeing, shopping, and much more, this place is indeed an ideal choice for all the nature lovers out there! Here's a list of some attractions you can spot in Nainital.
Trek to Guano Hills
A trip to mountains without a trek is totally incomplete. Guano Hills, located in Pangot has some amazing trekking trails. In the laps of these green oak, deodars, and bamboos, you might also be able to spot the Black-Chinned Babbler and Grey Woodpecker. Well, you don't need to spend a single penny to go for this trek, isn't it cool?
Trek to Tiffin Top
If you're looking for an easy pony ride then you can simply hit this spot as it's an easy trek of only 4 kilometers from Nainital. Once you reach the place, you'll realize how beautiful this little tranquil hamlet could be. You'll get a complete 360-degree view of the Nainital city.
Boating at Naini Lake
The endearing beauty of the Nainital hill station lies in the Naini lake. A trip to Nainital definitely calls for this experiential lake tour. While you're enjoying the majestic surroundings, you can also indulge in activities like boating, yachting, or paddling.
Snow View Point – Aerial Ropeway Ride
If you're looking for a spectacular view of the snow-capped peaks of the Himalayas? It's quite evident from the name itself, the snow-view point offers you some really astounding views of the dazzling snow-capped peaks while the sun highlights the bright colors. Keep your camera handy and don't forget to capture the heartwarming sunset view.
St. John's Church
Built in the 1800s, this church has all the potential to captivate the tourists' sight with its spectacular non-Gothic style of architecture. If you're seeking a peaceful retreat then you must add this spot to your sightseeing.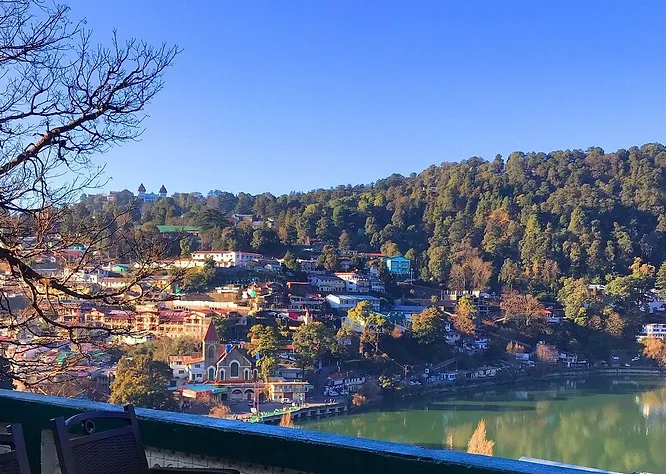 Well, there's a lot more to explore in this immensely beautiful city of nine lakes. If you're planning to visit anytime soon and looking for a luxurious yet peaceful stay, you can give us a chance to serve you with distinguished hospitality and seamless services and provide you with an experience that you can never forget.