In every Indian household living in Delhi, a family trip usually ends at Nainital, one of the most popular destinations. Whenever someone says Nainital we immediately get onto the boat rides, the Nani lake, the view from the tiffin top and don't forget the Naina Devi Temple some of the most sought-after attractions in Nainital.
However, Nanital is more than just the lake district of Uttrakhand. There are serene & peaceful sides of Nainital that are less explored, away from the popular ones. The kind that pampers your tired soul and carries you to the places your heart desires & allows you to do whatever you want.
Spend a weekend in Nainital, and enjoy a stay that makes your vacation totally worth it. You are about to discover the most amazing experiences Nainital has to offer in this unique travel guide.
What makes Nainital special?
For all Delhiites a quick weekend getaway, to escape the ordinary is luckily not that difficult.
The 6-hour road trip from Delhi to Nainital is a belt of lush greenery & mountainscape for the soul to the refreshing new view, making the route as much of a delight as the destination.
During the trip, you can relax in nature while remaining close to all the comforts of the urban world (shops, ATMs, restaurants, public transportation, etc.).
While you may have been to Uttarakhand before, here are some unique experiences you should include in your Uttarakhand tour.
Staycation with your family or friends
Some trips are about rewinding & refreshing your mind rather than backpacking & touring around. Pamper yourself with a relaxing staycation surrounded by the surreal hills of Nainital. Wake up to refreshing views of the pristine mountain as you set a peace-loving tone of vacation.
Spend the weekend at Bhikampur Lodge by Howard Hotels, the perfect property for a cosy staycation, to unwind from all & just take a deep breath of clean, fresh, unproblematic air.
Enjoy finger-licking local pahadi dishes
The flavours of India are irresistible, every place having its specialities to entice all. Nainital falls in the Kumaun Region and the Kumauni delicacies are so delicious you cannot resist. Travellers are increasingly becoming experimental and reaching out to experience the local specialities.
A wide range of lip-smacking preparations, such as Gutke Ke Aloo, Gahat ki Dal, Bhatt ki Churdkani, Chainsoo, and Bal Mithai.
At Bhikampur Lodge, you can always expect delicious food. The chefs at our restaurant are well versed in pahadi cuisine and know how to prepare the best meals using fresh ingredients.
Travel Local – Self-Exploration
For solo travellers, Nainital is a wonderland of enchanting sights to discover & explore. Dress as comfy as possible & lace up your shoes for a long, peaceful walk amongst nature's best. Enjoy the scenic views of the magnificent hills and take countless pictures of memories as they unfold.
Nature lovers are in luck as Nainital is abundantly carpeted with Oak, Deodar, Sal, & Surai.
While on your nature walk you can also explore the orchards of pears, apricot, strawberries & other fruits. After roaming the tranquil beauty, reconnect with the world with a fresh mind as you shop for your heart's desire at the famous Nainital Mall Road.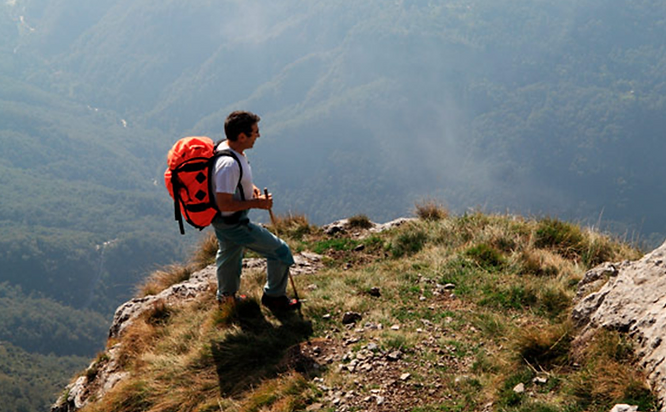 Mesmerizing Stargazing Camp Out
A nature-lovers haven, amidst the chitter-chatter of the crickets, the fresh cool breeze – a one-of-a-kind soul-soothing retreat. Plan a camp out with your friends amid the wilderness. Witness the changing hues of the beautiful skies from the ever-orange Sunset to the dreamy Sunrise. Weave an outing of unforgettable fun & moments with friends, delicious barbeque snacks, and sitting around a warm bonfire exchanging fabled stories for a good life. Even if you enjoy your own company the most, there's nothing better than lying on misty grass and gazing up into the night sky. It's fun to go solo too!
There are various options for camps in Nainital providing good amenities & a good time.
Adventure in Nainital
Ditch the usual boating and shopping in Nainital, you can instead choose a different path like trekking, paragliding, river crossing, and rappelling – some of the thrilling adventure sports in Nainital. While ropeway rides give you an enchanting bird's eye view of the valley, rappelling and paragliding are exhilarating experiences in themselves. If you haven't had a taste of adventure in a long time, your trip to Nainital from Delhi will not be futile.
Nainital has a lot to explore, discover & experience making it an ideal destination for a quick weekend getaway.