Also known as "Blue City", "Sun City" and "The gateway to the Thar desert", Jodhpur is famous for its majestic Forts, blue houses, temples, sweets and street foods.
The former capital of Marwar, Jodhpur is one of Rajasthan's most enchanting cities, with its majestic Mehrangarh Fort overlooking the town with inspiring architecture.
Just as the city exudes royalty in every nook & cranny, the street food of Jodhpur shares the same vibrant vibe. Full of flavours & character giving every dish has its own personality. If you are someone that loves to explore the authentic, rich heritage of food then set on a journey of palate festival & discover the variety of delicacies Jodhpur has to offer.
Makhaniya Lassi
An unmissable culinary delight to start your food journey at Jodhpur. The makhaniya lassi is a thick creamy concoction of buttermilk flavoured with saffron, cardamom & rose water among other things to give it the true distinction of a desi drink.
If the creaminess of the drink was not evident, it is topped with a dollop of hung curd & yoghurt cream to give it the full creamy feel & hopefully a satisfying moustache of cream on your lips as you relish the drink.
This flavour bomb of a drink is the perfect cooler after a sunny stroll down the hot, dusty lanes of Jodhpur.
Fun Tip: Take a spoon and dip it into the lassi to get a spoonful of the thick, rich cream to add an extra fun experience.
Dal Bati Churma
The popular staple dish of every Marwadi house in Jodhpur, Dal Bati Churma is a dish you can't afford to miss.
Made with yellow lentils infused with spices, cooked in ghee and served with more ghee – cuz there is no such thing as too much ghee! This preparation is served with flaky bread slow-cooked in a traditional oven over firewood. A traditional dish passed down generations, this dish is a part of the street foods of Jodhpur that you can relish.
Kadhi Kachori/Pyaaz Kachori
Crispy, tasty street food is an instant favourite for any food, add some uniqueness to it and it's a hit. Kachori is a round fluffy fritter filled with masala. A popular dish in North India, with minor variations of filling & spices & crispiness according to geography.
Jodhpur offers an assortment of kachoris including the very eccentric combination of the yummy Jodhpur curry & kachori to give that crispy, crunchy & curry appeal. Usually served with red & green chutney for the daring foodies to amp up the spiciness, the filling of the kachori in the combination may vary from Masala to Pyaaz as per your preference.
For all the sweet tooths out there – you can try the Mawa Kachori, only found in Jodhpur. It has a filling of dry fruits, mawa, & khoya and is then topped with Chashni (Sugar syrup).
Tip – We suggest sharing this rich, heavy dish with someone else, as it may be a feat to finish it all by yourself.
Papdi Chaat
One of the most popular & favourite savoury snacks of all time, Papdi chaat is a hit with all. The papdi is a dough fried to crisp golden and is topped with boiled peas & potatoes. Dahi, chaat masala, and spicy chutney are added on top to amp up the flavours & are garnished with onions & coriander for that extra yum!
Anyone who loves to try new dishes must try the various variants of this chaat such as Dahi papdi chaat, Dahi puri chaat and more.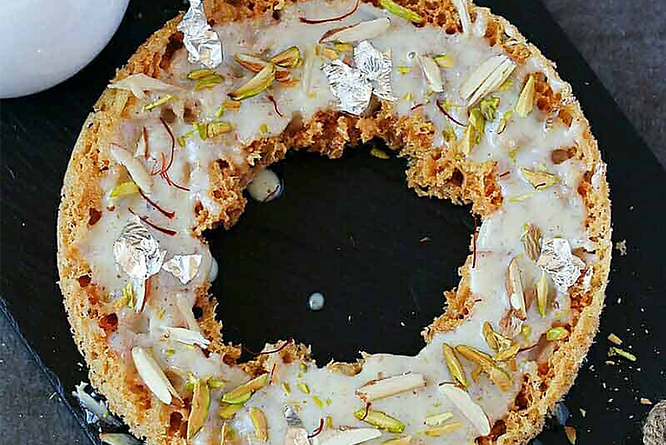 Malai Ghevar
Satiate your sweet-tooth cravings with the famous Rajasthani delicacy – Ghevar. Choose from an assortment of different types of Ghevar i.e. plain ghevar, mawa ghevar & malai ghevar (the most popular).
This sweet delicacy is a doughnut-shaped cake made with all-purpose flour served with Chasni (sugar syrup).
This is one sweet that is associated with the Teej festival but can be found in select places throughout the year.
Mirchi Bada
Craving some spicy, crispy treat for your evening snacks then Mirchi Bada is your companion. Enjoy your tea with some flavourful Mirchi filled with potato & cauliflower stuffing dipped in besan batter & deep fried till crispy – golden brown. Served with flavourful tomato sauce & green chutney, this savoury snack is the perfect get-together treat.
Tip: Clock Tower Road is one of the best places to eat in Jodhpur if you are craving some mouthwatering Mirchi bada.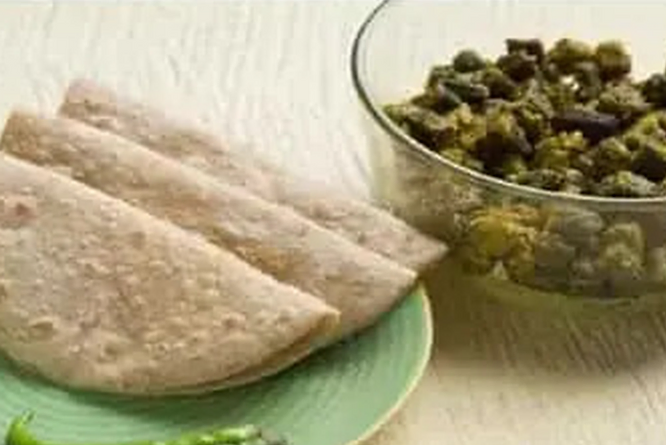 Malai Roti
One of a kind of dessert dish that is unlike anything you've ever had before. Malai Roti is a delicate dessert made with condensed milk & cream with a distinctive taste of cardamom, mace, nutmeg & saffron. It's shaped like a roti & garnished with almonds & pistachio.
This rich and flavourful dessert is a must-have.
Make your next trip to Jodhpur a Marwari treats flavour bomb as you explore & taste an assortment of delicious street food with your stay at Rajputana Palace by Howard Hotels.